Love board games? Ready to use them in class?
Playing board games with kindergarten and preschool children is an excellent way for them to learn to share and take turns, cooperate with each other, to increase logical thinking skills, and to learn basic math concepts, as well as letters, colors and shapes.
What makes a great board game for young children?
The instructions are simple
The game does not depend on reading
The game is easy to set up
No batteries needed
The game builds skills in some way
For very young children, the pieces need to be sturdy and easy to grasp
What makes a great board game for young children IN CHINA?
The instructions are easy to teach without using Chinese
The game does not depend on reading, but more listening or repeating
The game is easy to set up and clean up quickly
The game builds LANGUAGE skills in some way
For very young children, the pieces need to be sturdy and easy to grasp and NOT edible.
IMPORTANT NOTE: For some games I don't play the "actual" game that is described in the instructions, I change rules to suit younger players.
Check out some of the great games below and have fun playing with the children.
Qwirkle
For younger students I just use these as colorful blocks to teach matching, patterns, colors, and counting. You can also use them to practice fine motor skills by stacking them, sorting them, picking them up with different body parts. You can hide them around the room, or use them in sensory bins. Very sturdy, versatile and adaptable, so I included them in any list for young students.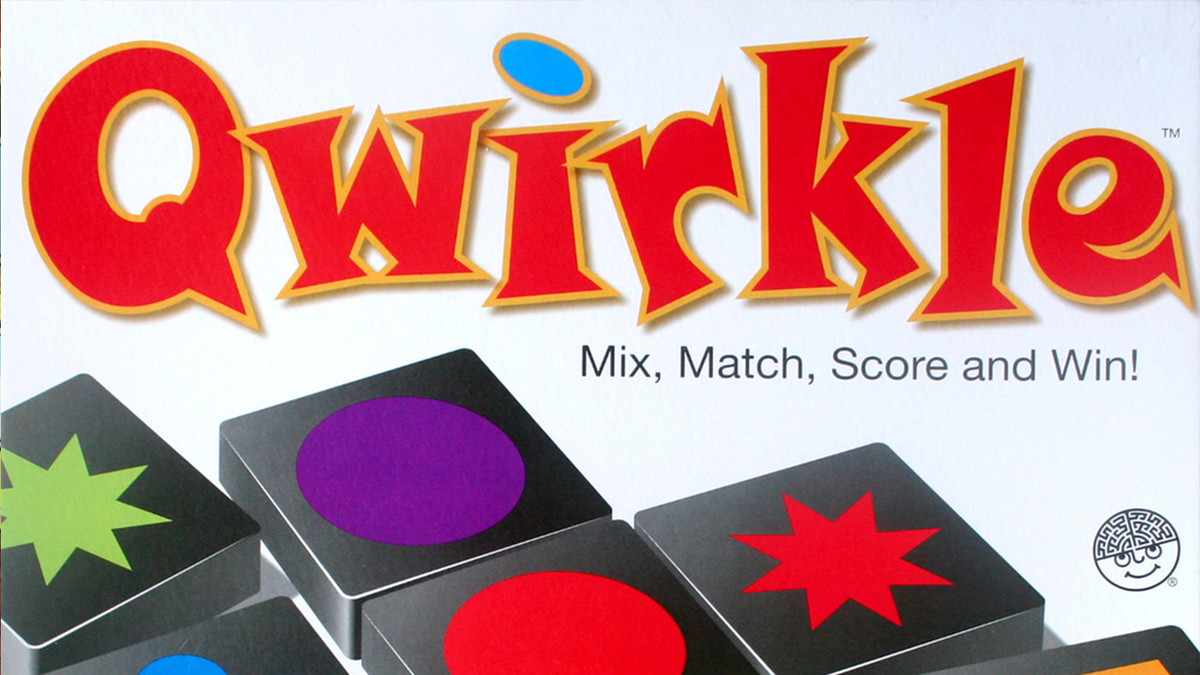 The Pair Game
This game is just a version of memory matching games that you can make by yourself of play with sets of cards. I like this version because of the plastic frame. We also will send you an empty template you can edit to create your own board! The timer is also useful for other classroom games, but I seldom use it with young students during games.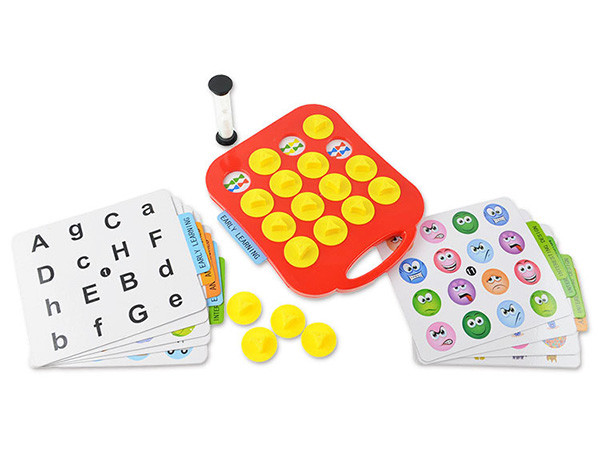 Uno
Many people already know how to use this game, but much like others on this list, there's more than meets the eye. You can use these cards to practice many different skills instead of just following the original game instructions. We recommend this version that has plastic cards because young kids like to bend (or gnaw) cards. You can take out the special cards at first and just practice "game" skills. Here is an example of an adapted Uno game:
Game #1 – Deal/Play/Draw
Each kid gets 3 cards. Count the cards when dealing.
When you say 1, each kid that has one can play a card.
Say the numbers in ascending order. Next time try in descending order, or random order. Or connect it to questions like "How old are you?" "How many windows are there in the classroom?"
After they play a card, then have them draw a card. Be sure to practice sentences like
"May I have a new card, please."
"Play a card."
"Draw a card."
"How many cards are in your hand?"
"I have no cards in my hand."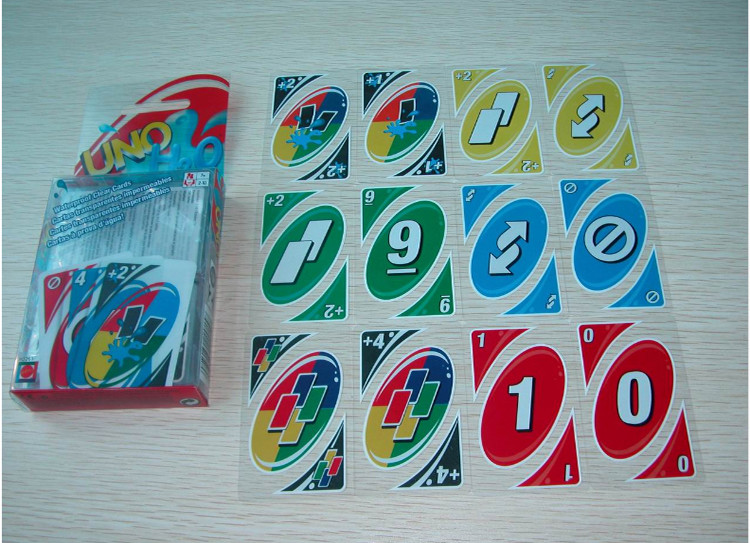 Geistes
This game has several versions, but each follows the same game play. Kids look at a card and grab an object that's on the table based on the card. There are two types of cards. The first type we called "Yes, It's there." cards. You grab the item if it matches what you can see, ex. a green bottle. BUT some cards are more tricky, the objects and colors DON'T match. So what do you take? The object and color that "You can't see it" for example this card.

You can see a book.
You can see a ghost.
You can see red.
You can see green.
SO you don't take a book, or a ghost, or the chair (because it's red) or the bottle (because it's green) that leaves only one item. Take the MOUSE!
This maybe too difficult for some ages (3-4) but about 5 years old they can understand this logic, but it might be very slow. So instead of making it a "game" where you compete, make it a game where you take turns and help each other to find the right item to take.
For 3 – 4 year olds, just use the cards that show the correct item. OR practice their listening by just saying and item and letting them grab it. If you have students fighting or getting upset, then just call someone's name first, and only they can grab it. Make sure to give each student a chance. If you still want competition you can call two students (but make sure their level is evenly matched to make it fair)
The best part about this game is you can use it as they grow and make it more and more difficult. I still play this with my older students except now I read the cards out or write it out on the whiteboard and point.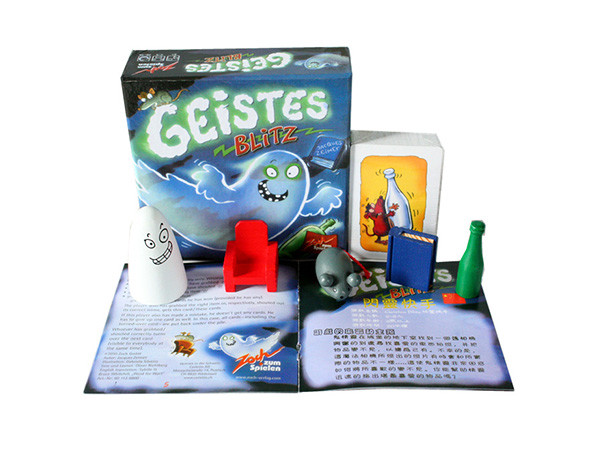 Dominoes
Another classic that can be easily adapted for learning, these come with plastic frames and several cards you can fit inside. The concept is similar (matching, connecting) and you can change the level based on your students.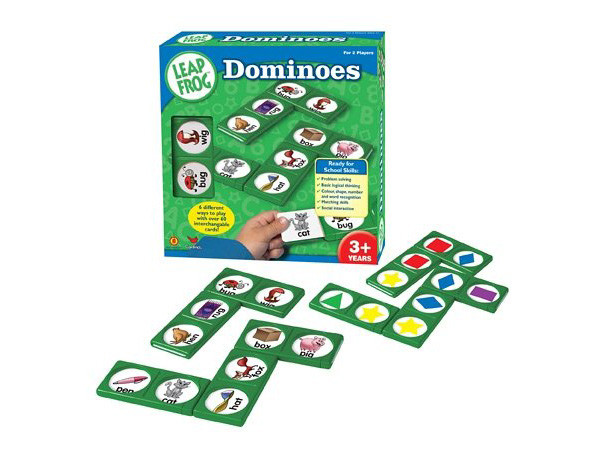 Animal upon Animal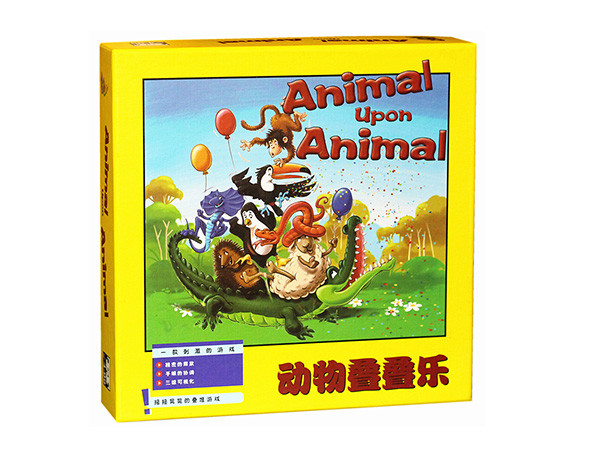 Take turns stacking different wooden animal figures on top of each other. The first person to stack all of their animals is the winner. It's not as easy as it sounds, because the pieces are 3 dimensional– you try stacking a penguin on top of a hedgehog!
This is great for younger kids to practice animal vocabulary AND prepositions.
Chicken Cha Cha Cha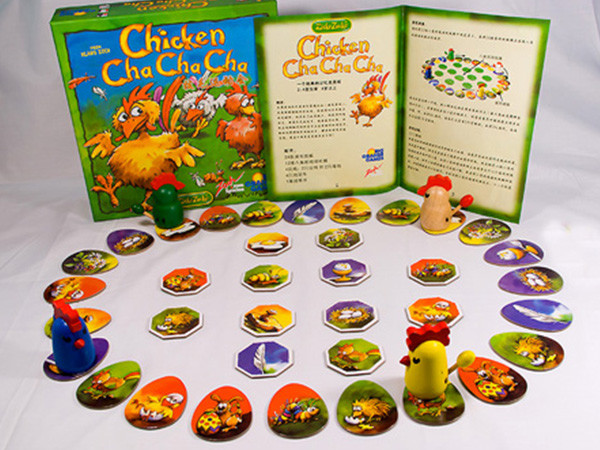 This is a memory matching game where players go around the circle taking turns trying to pass the other teams chicken and remove its tail feathers. Best for ages 4 and up. Colorful pictures and interesting vocabulary like "shell, feather, egg, nest" and much more.
Zingo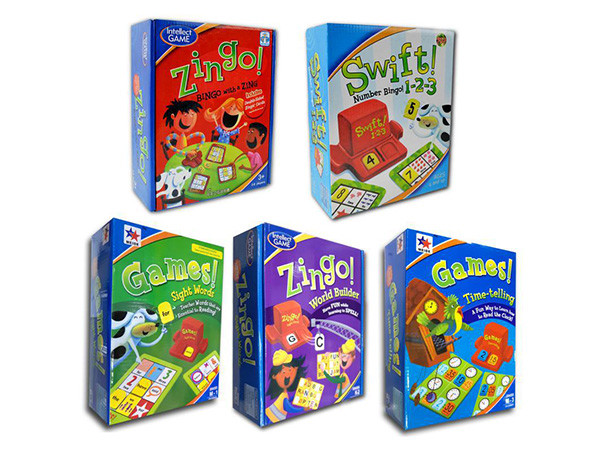 Just like playing a classic game of Bingo, except:
2 levels of play
6 double-sided zingo cards and 72 double-sided tiles
Easy to clean up
Different versions teach different skills: Counting, simple addition, number sense and sight word recognition.
How to play:
Teacher will call out the words.Players raise their hands or shout out to win the tiles. Then match the tiles to images on their cards. The first player with a full card wins by yelling "Zingo."
For shorter games, just have them get one "line" of pictures covered instead of the whole card. For younger players, play until everyone wins. Let the student that wins first help others.
Game is sturdy, pieces are well made.
We recommend at least 3 people play since that provides more action and competition for chips, but 2 players is ok. You can also pair students up so that two students fill up one card and work together.
Snack Attack!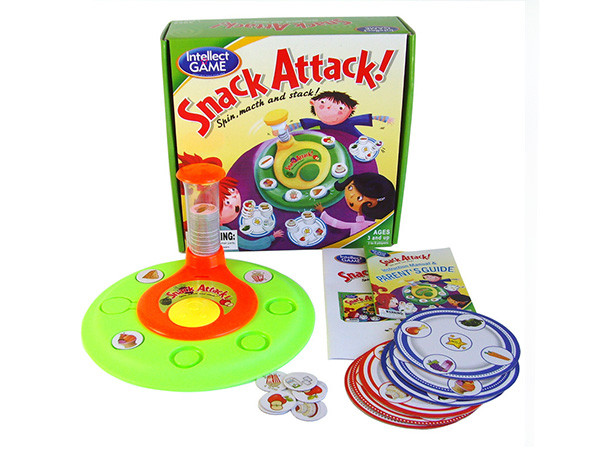 Ages 4+ and up to 6 players
Skills Learned:
Matching
Visual Recognition (Use for identifying letters and words)
Memory and Concentration
Observation and Perception
Fine Motor Skills and Coordination
Following Instructions
Taking Turns
Winning and Losing
Expanding Vocabulary and Sentences