​Turing Tumble – Kickstarter Campaign
Turing Tumble is a new type of game where players (ages 8+) build mechanical computers powered by marbles to solve logic puzzles. It's fun, addicting, easy-to-learn, and while you're playing, you discover how computers work.
I'm all about teaching kids to code. When I was a professor at the University of Minnesota, I saw how valuable it is for all students to be coders. I have three young kids and I've tried all sorts of games to build their interest in coding. The problem is that they all treat computers like abstract, black boxes. They overlook the fundamental, most amazing concept: how simple switches, connected together in clever ways, can do incredibly smart things.
Kids learn best when they use their senses to explore concepts. Turing Tumble is the only game that lets kids see and feel how computers work. The logic isn't hidden inside a computer chip – it's all right there in front of them. It builds logic and critical thinking skills, fundamental coding concepts, and grounds their understanding of computers.
And adults, this game is not just for kids!
It's a game unlike any you've ever played. It takes creative thinking to come up with a solution to each puzzle – you can't just stumble across the solution by trial and error – and it's extremely gratifying to build it and watch it work. Even if you're an expert programmer, I guarantee you'll find the latter puzzles a challenge.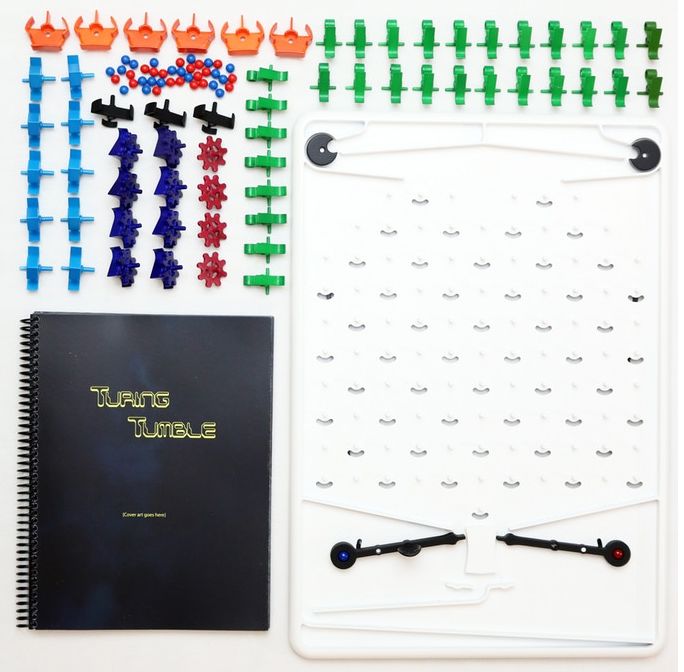 Turing Tumble comes with 105 parts:

1 game board
1 game board stand
30 ramps
10 bits
8 gear bits
6 crossovers
4 gears
3 interceptors
1 presser
20 red marbles
20 blue marbles
1 puzzle book
Turing Tumble comes with a book of 51 puzzles. They start out easy and become steadily more challenging. Each puzzle leads the player to discover new concepts that can be applied to more complicated puzzles later on. The puzzles are woven into a 20-page comic story, beautifully illustrated by Jiaoyang Li, where each puzzle brings Alia the space engineer closer to rescue from a seemingly deserted planet. Jiaoyang is a senior at the University of Minnesota, majoring in both art and computer science. This will hopefully be her first published artwork.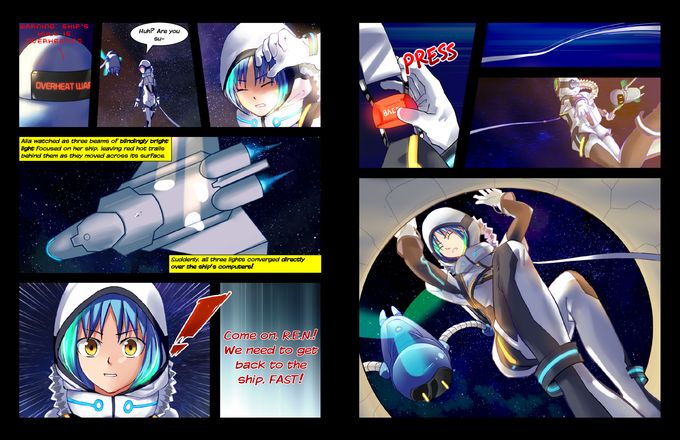 "I've had the chance to preview the material with my 8 and 10 year old children and they loved the story-based approach. The graphics are very high quality and the story is fast-paced and engaging. The puzzles do a great job of showing how you can build complex systems from simple building blocks." — Dr Tracy Gardner, Director Tech Age Kids

What Kinds of Things Can It Do?
The Turing Tumble mechanical computer can do all sorts of things. It can:
count
add
subtract
multiply
divide
compare numbers
it can do logic
it can create patterns
…and much more
Check their website for more info. And check out the site for educators where you can pick up their FREE guide!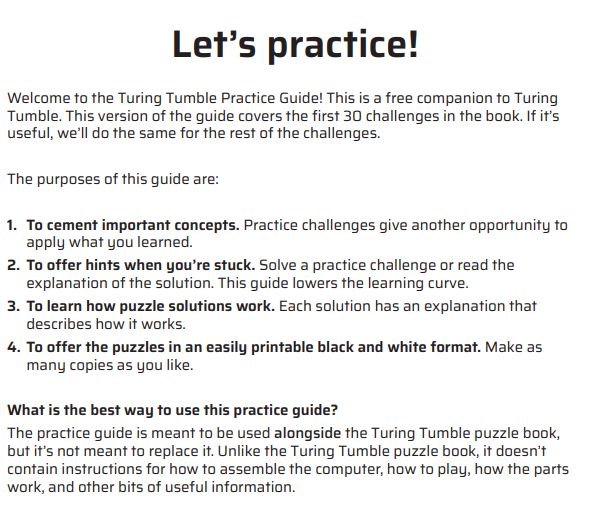 ---
Read Some Reviews:
Popular Mechanics: This Brilliant Mechanical Computer Is Built for Gaming
TechCrunch: The Turing Tumble lets you and your kids build real mechanical computers
GeekDad: Kickstarter Alert: Program a Mechanical Computer With 'Turing Tumble'