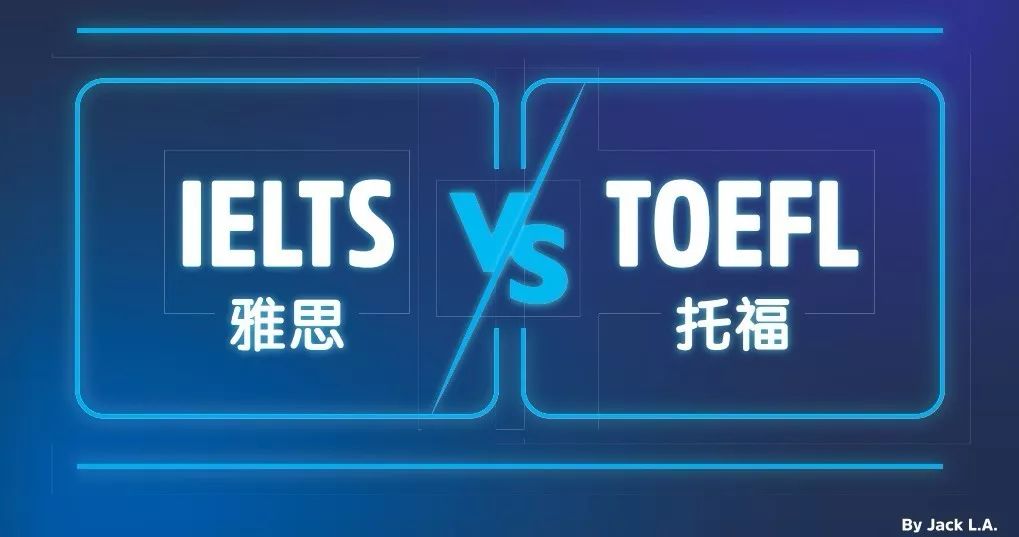 ​One pleasant afternoon last summer, sweet-milk fresh in my memory, a phone call came through at the office. Our Chinese team wasn't around since they had gone out for lunch, and because I had some unfinished work to attend to, I ate my lunch in the office. I picked up the phone and a lady responded and started talking in Chinese:
"Hello, is that Aceish Education?" "Yes," I answered in Chinese. I introduced myself and asked her how I may help. She talked for a while thinking I was Chinese.
"I speak very little Chinese," I interrupted politely. I could tell from the way she spoke that she was in desperate need of some urgent advice and if my advice was spot on, she may enrol her son in our online training program. Anyway, knowing fully well now that I am not Chinese, she spoke English. "I am a parent and my son would like to do his undergraduate studies abroad. I'd like your expert advice regarding the test he should take, IELTS or TOEFL?"
"Alright, madam. May I ask a few questions?" I replied.
We receive tons of similar calls very often and are always willing to give as much information as possible. So, this kept me wondering why the same questions are being asked on a daily basis despite tons of articles, blogs, books and other free reference materials available in prints and online.
While would-be test takers may have read thousand if not millions of materials related to these exams online and offline, I believe an overwhelming majority of students and parents are still unclear as to which of these tests they should take. As an experienced IELTS tutor and former City and Guilds (UK) examiner, I am going to shed more light on this as best as I can by highlighting some important points.
However, before proceeding further, I would like to clarify that while both exams are designed to measure proficiency in four skills areas – reading, speaking, writing and listening. Unlike TOEFL, IELTS measures all of the four skills independently. This in effect means you are awarded separate marks in each of these skills and your total score is an average. So, if for example, you score looks like this: reading – 6.0, listening 7.0, speaking – 7.0, writing – 6.0. Your total score will be 6.5
It may be a good idea to skim-read the diagrams below before further reading.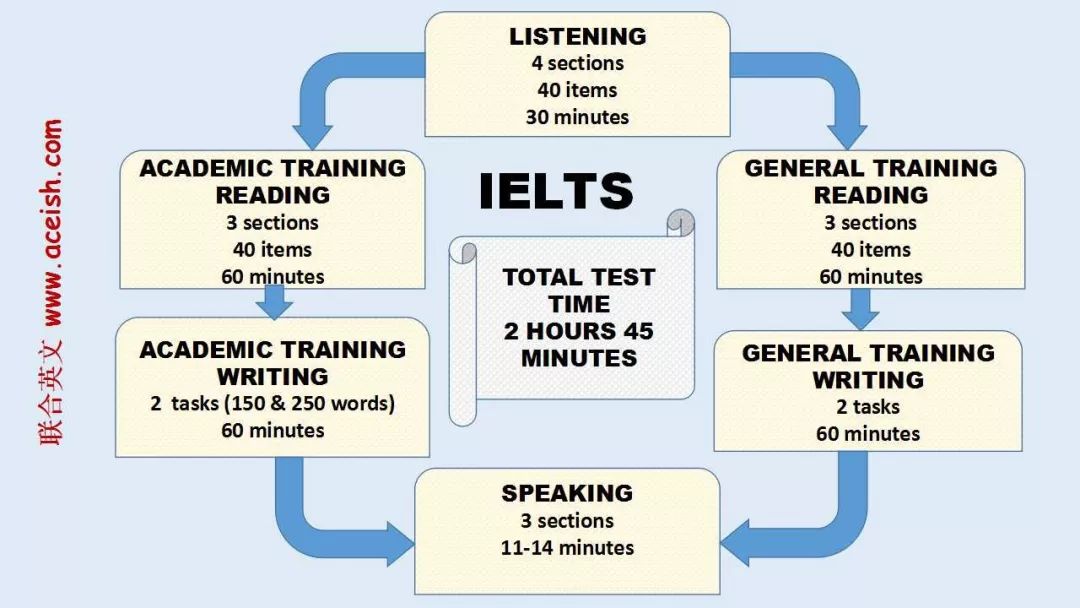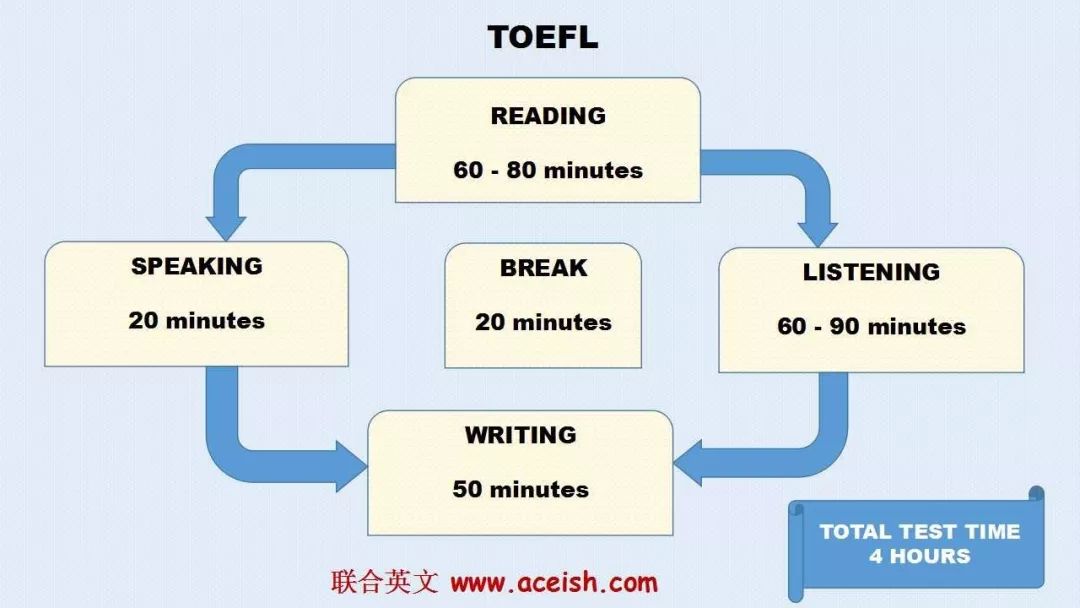 Having gone through the diagrams, I believe you now have a rough idea of what both tests entail. Nonetheless, I will try as much as possible to expand on them later in the article. The following guidelines should help you to decide which exam to take if the university you have in mind accepts both IELTS and TOEFL.
Speaking
Are you passionate about technology or not?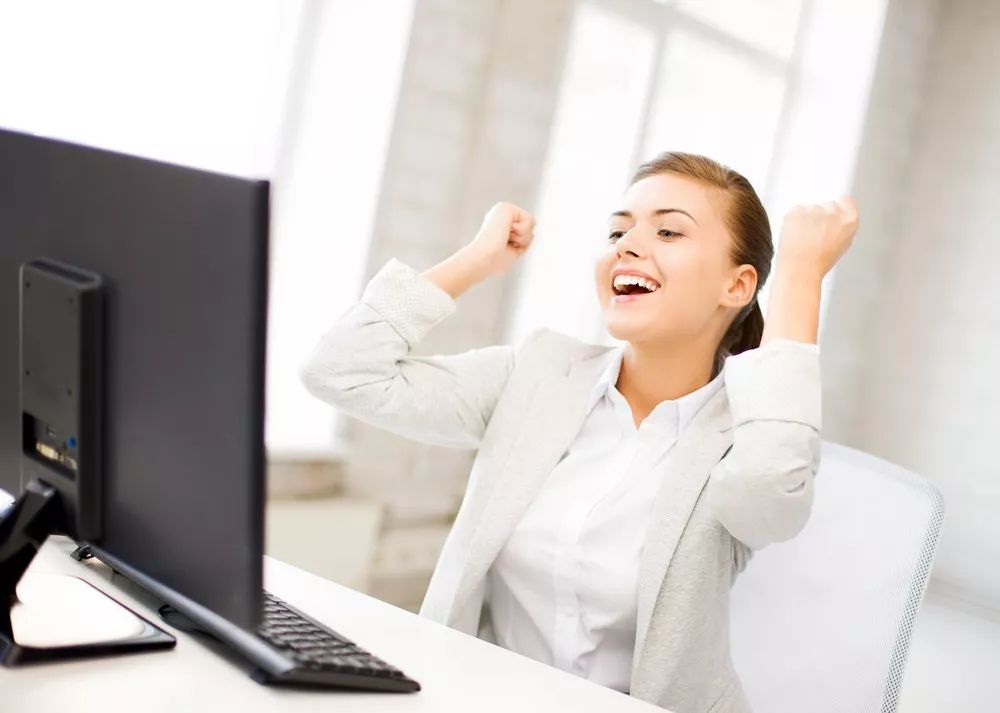 Clearly, the most distinctive features of the two tests are the speaking section. While in IELTS you are asked questions by an IELTS examiner, in TOEFL, on the other hand, you take the test online via a computer – that means you get to interact with a digital assistant when you respond to questions. For technophiles, this is something to be jubilant about. Unsurprisingly, this may be a put-off for technophobes.

So, If you are the shy type, TOEFL may be your better option. If you are the outgoing type and prefer talking to a real person rather than a computer, then IELTS should be your preferred option.
Timing and sections
In TOEFL you are given 6 questions which have to answer within 20 minutes. IELTS speaking test comprises of 3 sections lasting between 11-15 minutes.
Accent
Some candidates I have met tend to have a preference for a particular accent. So, If you prefer American accent, then go for TOEFL. If you are comfortable with standard British or Australian accent, you should take IELTS.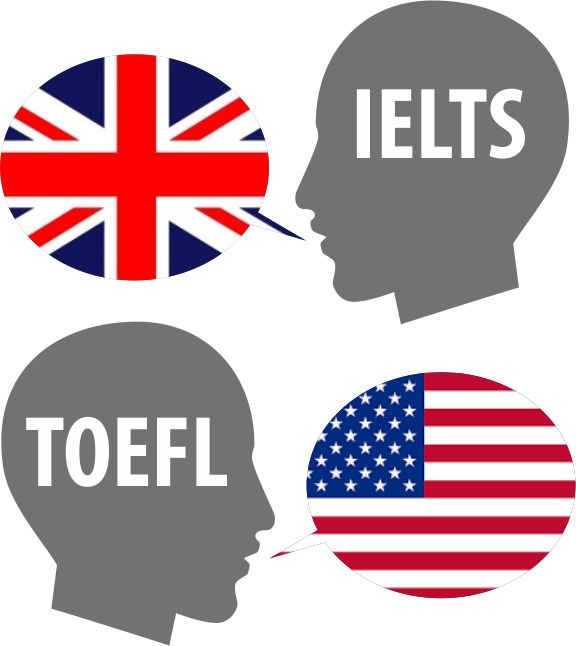 Writing:
Pen and paper vs Typing
This is what differentiates the two tests in this particular section. While you are required to use pen and paper in IELTS, TOEFL requires you to type your answers. This is a great escape route for those who are not confident about their handwriting.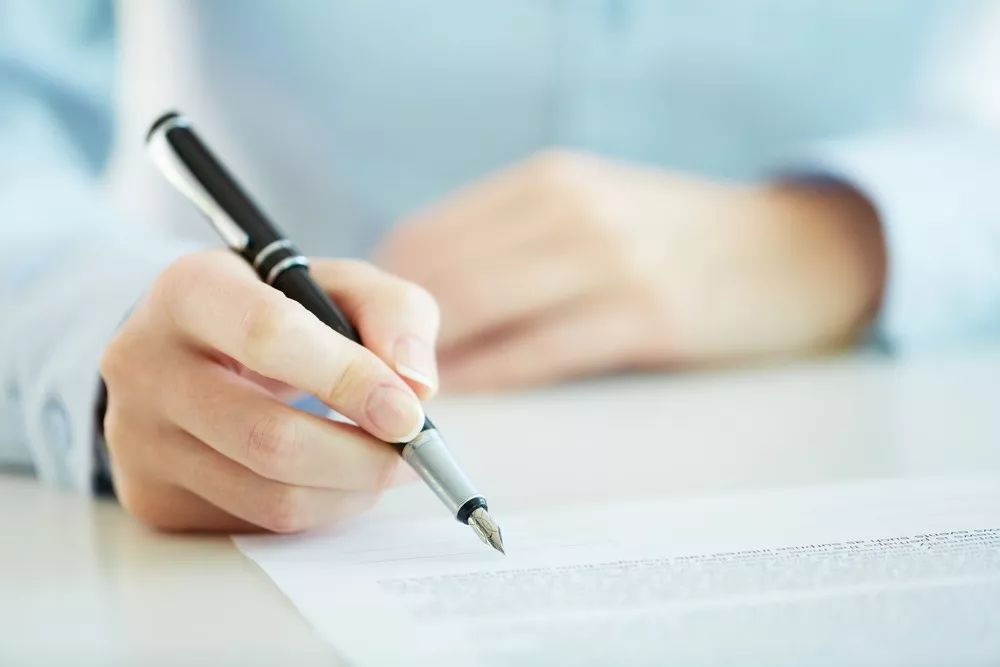 Format
There are two questions you have to answer in both TOEFL and IELTS, but the format varies.
In TOEFL writing section, you are given a passage to read following a two-minute lecture on the same topic. You are required to write a short answer to a question based on the same topic being discussed. Most students prefer this as you do not need to have an expert knowledge of the topic. The second question in the writing section is a discursive essay which is similar to an academic essay.
With IELTS, It is a different format altogether. There are two writing sections – academic and general. The academic writing test which is 60 minutes long comprises of two sections – tasks 1 & 2. In Task 1, you are required to write a summary of at least 150 words in response to a particular graph (bar, line or pie graph), table, chart, or process (how something works, how something is done). This task tests your ability to select and report the main features, to describe and compare data, identify significance and trends in factual information, or describe a process. You should spend 20 minutes on this task.
Task 2 is more demanding as you are expected to produce a written argument on a given topic and to organise your answer clearly. You also have to provide some examples to support your points. A minimum of 250 words is needed and, since it is longer than task 1, you are advised to spend roughly 40 minutes on this task.
Regarding the general writing test, it has two sections – tasks 1 and 2. The test is 60 minutes long and has two writing tasks of 150 words and 250 words. In Task 1, candidates are asked to respond to a situation, by writing a letter, for example, requesting information or explaining a situation. In Task 2, candidates write an essay in response to a point of view, argument or problem.
Listening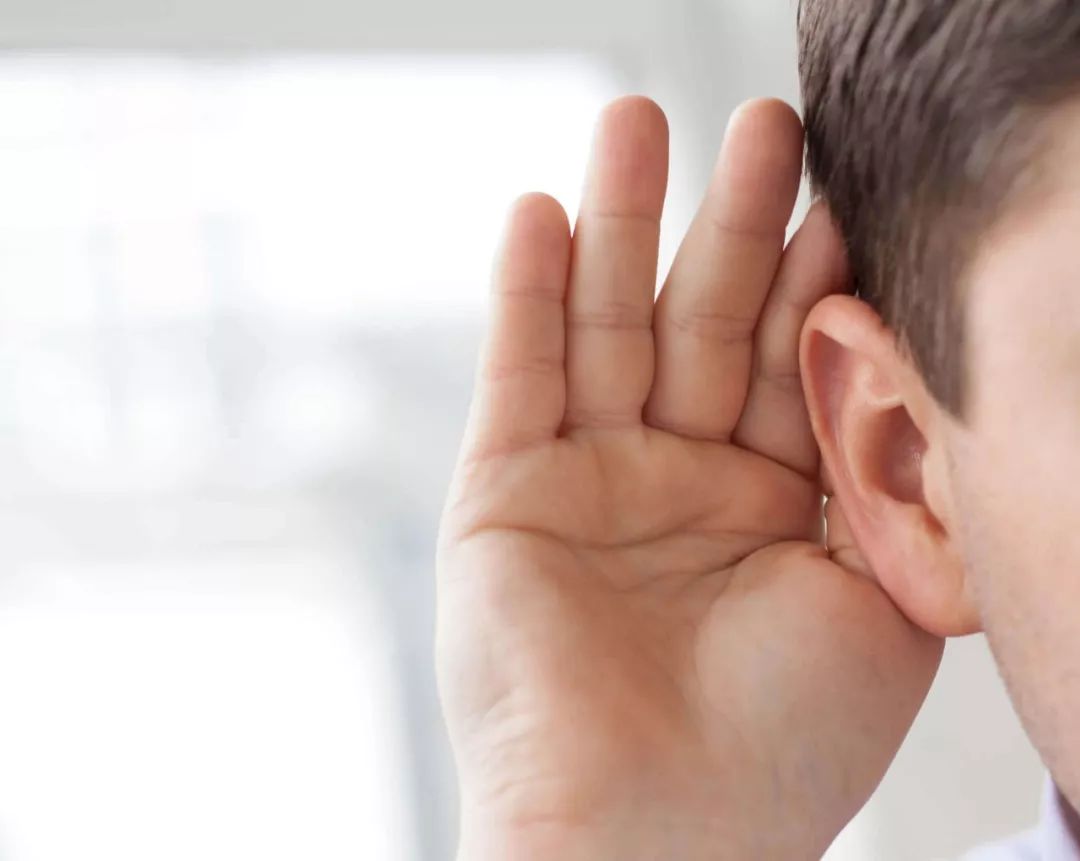 The major differentiating factor between TOEFL/IELTS in terms of the listening section is the duration. While IELTS test lasts for about 30 minutes, TOEFL listening test is 60 minutes long. Besides this, accents, question types and context of the questions also differ. The context of the TOEFL listening section is fully academic whereas the IELTS listening section, contexts can be from both academic and social in nature. The TOEFL listening test follows a multiple choice question format and if you perform well in questions that follow this sort of structure, that is a big plus. However, In the IELTS test, questions vary from sentence completion to matching headings, diagram labelling to true/false statements.

Reading
Just like the listening section, TOEFL's reading section comprises of multiple-choice questions only. IELTS, on the other hand, has a wider range of question types. Having mentioned that, while the reading sections of IELTS and TOEFL both have the same time limit; 60 minutes, they vary both in terms of question and context.
Reading is the second part of the IELTS test and it takes 60 minutes. It consists of three or sometimes four reading passages of increasing difficulty, and there is a total of 40 questions to answer.
Though you can mark and write on the question paper, you must enter your answers on the reading answer sheet, and be aware that no extra time is given for transferring your answers from the test booklet to the reading answer sheet. Just like the writing section, this section has both the academic and general training parts and these are graded at the same level.
However, because the texts in the academic reading test are more challenging overall than those in the general training test, more questions need to be answered correctly on a general training test to receive the same grade. The TOEFL reading test consists of three passages and contains 39 questions. There are 13 questions on each passage.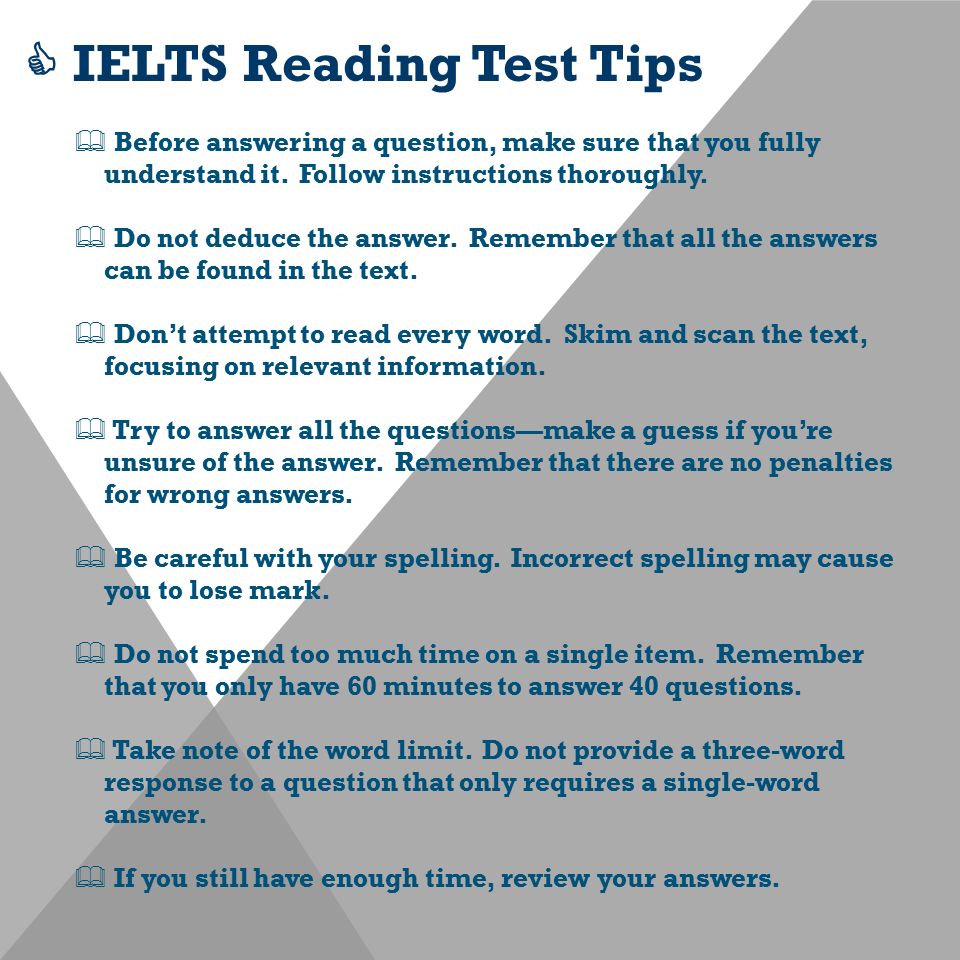 Grading system and exam duration
TOEFL lasts approximately 4 hours. It is graded from 0-120 and you can expect to get your result after 10 days of the test date. IELTS, on the other hand, lasts about 2 hours 45 minutes. It is graded between 0-9. Speaking tests may be held a few days before or after the test date. You may expect to get your result 13 calendar days after the test date.
Test duration
IELTS is a shorter exam than TOEFL requiring just 2 hours 45 minutes in total while TOEFL takes a whopping 4 hours to complete. So, if you prefer a shorter exam duration, then you are better off preparing for IELTS.
Schools in the US or UK
If you are applying to an institution in the US, then consider taking TOEFL since it is more widely accepted in the US. For the UK, Australia, New Zealand, Ireland and other European countries, IELTS is most likely the preferred choice. Canada and a few other countries accept both IELTS and TOEFL depending on universities/colleges. Having mentioned that, that does not mean tertiary institutions in the US do not accept IELTS though.
In fact, over 2,000 institutions and programs in the USA accept IELTS scores as proof of English language skills. However, minimum score requirement may vary from 6.0 to 9.0 depending on universities and programs. It is accepted for programs by most Ivy League colleges and at top 50 US universities with the most international students.
The good news is, community colleges have joined the bandwagon as they are more willing to admit students with IELTS test results into their programs. Before committing to any of these exams, it is imperative to visit the school's website or contact the international admissions department to enquire about their preferred test.
Now that you have a clear idea of the structure, contents, duration and acceptability of these two tests at tertiary institutions around the world, which one of them do you prefer and why? Feel free to share your ideas in the comments below or better still direct any enquiries via my email, QQ or Wechat.
This article is a revised version of the one published last April in Shandong education guide, Shandong, China.
---
About the contributor:
Jack is the co-founder and academic director at Aceish Education (Aceish.com), an Edtech start-up in Beijing,China. He's a passionate educator, IELTS tutor, curriculum specialist & e-learning enthusiast with a penchant for success. We provide personalised online tutoring in IELTS, TOEFL, ESP, EAP, general English and K12 / Keystage subjects.
Kindly get in touch if:
-your school is looking for training solutions for staff/teachers.
– your school needs assistance with curriculum development.
– you need advice regarding setting up a language school vis-a-vis recruiting teaching staff, classroom designs, study and teaching materials etc.
– you are involved in online training and overseas education in China and would like to collaborate.